The UK Health Lottery was established in 2011 by billionaire Daily Express and Sunday Express owner Richard Desmond. The Health Lottery operates as the second-largest lottery in the UK, behind only the National Lottery with tickets sold online and at more than 32,000 retail outlets.
Today's Health Lottery review will focus specifically on the online experience. The lottery does have a major retail presence that we will discuss to an extent, but what we're really concerned with is its overall reputation, what the online experience is like, and how it compared with other lottery sites.
How the Health Lottery Works
The Health Lottery looks and feels like one big lottery, but it is actually a coordinated effort between 51 different society lotteries representing one local authority. Each week, a different local society receives the benefits of that week's drawings. Thus, over the course of a year, every local society receives a roughly equal share of the money raised by the Health Lottery.
At least 20% of ticket sales go to funding these various health-related charities across Britain. These good causes span a wide range of focuses that include everything from keeping at-risk youth busy with positive activities to providing "social opportunities for women of South Asian origin." You can see a full list of societies by visiting the Health Lottery website and then clicking the "about" link at the bottom of the page.
Five drawings are held each week from Tuesday through Saturday, and there are two major games on offer: the main £1 game, which runs once a day, five days a week, and the £1 QuickWin online game that runs every 3 minutes.
Additionally, HealthLottery.co.uk hosts a variety of instant scratch games that are on offer 24/7. These games work just like normal scratch-off cards that you would buy in person at any retailer – you scratch, check for prizes, and get paid instantly if you have a winner. All Health Lottery online scratch games cost £1 per play and offer top prizes ranging from £500 to £10,000.
The £1 Game
The main £1 daily drawing runs once a day from Tuesday through Saturday each week with prizes ranging from £10 up to £100,000. You can play multiple lines at a time, with each one costing £1.
For each line you buy, you choose five numbers ranging from 1 through 50. You can also click the "quick pick" option to have the lottery select five numbers at random on your behalf.
You can purchase tickets online one at a time, in bulk, or set up continuing purchases paid using your registered debit card. For continuing purchases, you can buy in advance for 1-8 weeks at a time or just set up an automatic recurring purchase that goes on until you cancel.
Here's what the purchase screen looks like in action: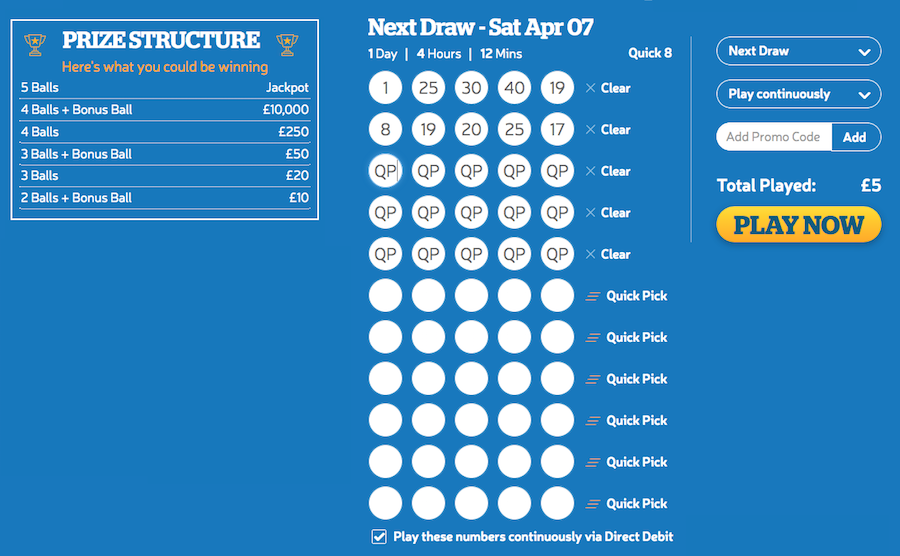 | | | |
| --- | --- | --- |
| Match | Prize | Odds |
| 5 Numbers | Up to £100,000 | 1 in 2,118,644 |
| 4 Numbers + Bonus Ball | £10,000 | 1 in 423,746 |
| 4 Numbers | £250 | 1 in 9,630 |
| 3 Numbers + Bonus Ball | £50 | 1 in 4,815 |
| 3 Numbers | £20 | 1 in 224 |
| 2 Numbers + Bonus Ball | £10 | 1 in 224 |
| Overall Odds | | 1 in 108 |
It's also worth noting that the top prize is equal to 10% of ticket sales, capped at £100,000. The Health Lottery makes it known that weekday sales are often less than £1 million, which means the top prize is often less than £100,000. For example, total sales of £750,000 on a Tuesday drawing would make Tuesday's jackpot worth £75,000.
QuickWin Lotto Drawings
The Health Lottery introduced online QuickWin games in late 2017 that is similar to the main drawing structure. Still, with additional prize tiers, a smaller jackpot prize, better overall odds, and drawings held every three minutes. The continuous nature of this game means it is always available, and you get your results immediately rather than waiting for the next drawing.
QuickWin games have you select five numbers from 1 through 50 like the main game and cost £1 per entry. The prize structure is as follows:
| | | |
| --- | --- | --- |
| Match | Prize | Odds |
| Match 5 | £25,000 | 1 in 2,118,644 |
| 4 Numbers + Bonus Ball | £10,000 | 1 in 423,746 |
| 4 Numbers | £250 | 1 in 9,630 |
| 3 Numbers + Bonus Ball | £50 | 1 in 4,815 |
| 3 Numbers | £20 | 1 in 224 |
| 2 Numbers + Bonus Ball | £10 | 1 in 224 |
| 2 Numbers | £3 | 1 in 16 |
| 1 Number + Bonus Ball | £1.50 | 1 in 32 |
| Bonus Ball | Free Play | 1 in 16 |
| Overall Odds | | 1 in 6 |
Instant Win Scratch Cards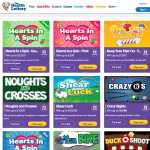 HealthLottery.co.uk maintains a small collection of instant win scratch card games that you can play any time once you have an account. Each game features a fun and unique theme, but the general idea is to uncover matching symbols correlating to a tiered ladder of prizes.
The top prize ranges from £500 to £10,000 depending on the game you play, but all have a return-to-player percentage of about 70%. This means that about 70% of everything paid into the games is returned to players in the form of prizes. For instant win games, a new local society cause is chosen every month, and 20% of all ticket sales are donated to that cause.
Online Health Lottery Pros and Cons
One of the advantages of dealing with the Health Lottery website compared to other lotto sites is that you are buying directly from the source. This results in better pricing for anyone based in the UK. The downside is that access is restricted to residents of the UK. If you live elsewhere and want to try your luck with UK lotteries, you'll need to try a different site.
The greatest disadvantage is that the Health Lottery website is dedicated only to this one lottery. The Health Lottery website is unlike most other lottery sites we review that cover many different lotteries worldwide. If you visit the Health Lottery website, it is to play Health Lottery games and nothing else.
One advantage is that the odds are much greater than playing in the National Lottery. While the National Lottery has odds of about 1 in 45 million for the top jackpot, the Health Lottery features much shorter odds of about 1 in 2.12 million.
Of course, the disadvantage here is Health Lottery jackpots are much smaller. The most you can win in the main Health Lottery drawing is £100,000. For comparison's sake, the UK National Lottery has a minimum jackpot of £2.5 million during the week and £5 million on Saturdays.
Health Games Website
The Health Lottery launched a separate but closely connected online casino/gaming site at HealthGames.co.uk in March of 2018. Like the main Health Lottery, this gaming site also supports charitable causes. However, the Health Games website does not state exactly what percentage of proceeds go to those causes.
Health Games is not regulated as a lottery in the UK and operates on a separate website, so it does not operate under the same rules as the actual Health Lottery. This means the amount they contribute to charitable causes could be different. The website does not make it clear how much they donate, and because of that, I would not assume it's a whole lot.
In any case, Health Games offers a full-service casino complete with even more instant win games, Slingo, slots, traditional table games, and even a live casino with human dealers who interact with players via streaming video.
The Health Games casino has literally hundreds of slots to choose from, a small collection of table games, eight live dealer games, more than 15 Slingo variations, and more than 30 instant win games with top prizes going as high as £150,000.
Payment of Winnings
If you play online and win over £2,000, the Health Lottery will pay your winnings directly to your online account. From there, you can withdraw them to your bank account. The Health Lottery website asks that you allow up to 14 business days for the funds to be credited to your bank account.
If you win more than £2,000, you are asked to call the Health Lottery customer support number at 0844 375 55 55, and they'll work out the best way to get you paid. Frustratingly, calls to the Health Lottery support number cost you 7p per minute.
Banking
Health Lottery online accepts lottery deposits via credit card, debit card, and direct bank debit. You may deposit as little as £5 and as much as £500 into your account at any one time and during any one transaction. Using multiple deposits, the most you can keep in your online account is £2,000.
The minimum withdrawal amount at any one time is £10, but you may withdraw less than that if your total account balance is less than £10. Additionally, withdrawals are only processed back to the same debit card that you originally registered with the Health Lottery.
Final Thoughts
The Health Lottery is a legitimate, licensed lottery headquartered in the UK, so there are no questions that this is a safe and fair lottery that will pay if you win. The chief complaints most people seem to have are related to two issues.
First, this lottery is often criticized for only donated 20% to charitable causes, even as the National Lottery donates 28%. That's a fair criticism, and it is worth keeping in mind if it's important to you that your money helps support good deeds.
Second, the maximum jackpot is limited compared to the National Lotto. The most you can win with the UK Health Lottery is £100,000, which is significantly lesser than what can be won through the national lottery. However, the odds for this lottery are much, much better.
Overall, the Health Lottery is a solid option for anyone living in the UK. The smaller jackpots and smaller share of proceeds being donated might turn some people away, but this is a safe place to play, and you will be paid if you win.