IceLotto is a lottery ticket messenger service that has remained relatively overlooked amidst stiff competition from bigger names in the industry. Even so, IceLotto has been in business continually since 2011 and is still selling lotto tickets online today. In conducting this review, we have noticed several areas of concern which you can read below.
We are not willing to recommend IceLotto to readers at this time.
The IceLotto website is owned and operated by Y&M Hans Management Limited, based out of Cyprus. Little information about Y&M Hans Management is available online, and other reviews published online have been mixed. It seems some other people like IceLotto while others do not – nothing strange here.
Customers from the United States and Israel are not accepted.
There is one strange thing we should note about IceLotto upfront to avoid any confusion. It appears there are two completely different websites with conflicting information, different lottos, and different prices.
The IceLotto business model is based on a simple premise: to buy lottery tickets on behalf of customers. If there is a lottery somewhere in the world that you would like to try, you can visit sites such as IceLotto to have them purchase tickets for you, so you don't have to pack your bags and catch a plane.
When you buy lottery tickets online through IceLotto.com, they send agents out to purchase tickets from authorized retailers on your behalf. Tickets are then scanned and uploaded so you can view them from your account page. This shows the tickets have indeed been purchased and allows you to verify all results.
IceLotto also supports subscriptions and syndicate play. Subscriptions automatically enter you into multiple drawings with the full price paid upfront. IceLotto offers a range of discounts for subscriptions, including discounts of as much as 50%. Syndicate options allow you to team up with other people to purchase 50 lines simultaneously, with all winnings split equally among all shareholders. You can purchase anywhere from 1 to 150 shares in each syndicate.
Lotteries Covered at IceLotto.com
IceLotto currently offers tickets for about a dozen major lotteries hosted around the world. These include the big American drawings such as Powerball and Mega Millions in addition to major European lottos such as EuroMillions, Spain's El Gordo, and more.
The full list of lotteries offered by IceLotto includes:
| | | | |
| --- | --- | --- | --- |
| Lottery | Minimum Purchase | Syndicate Options | Syndicate Price |
| Powerball (USA) | 3 lines / €17.42 | 50 lines / 150 shares | €6.72 / share |
| Mega Millions (USA) | 1 line / €4.97 | 50 lines / 150 shares | €6.72 / share |
| EuroMillions (Europe) | 3 lines / €21.96 | 50 lines / 150 shares | €9.79 / share |
| UK Lotto | 3 lines / €18.54 | 50 lines / 150 shares | €8.30 / share |
| SuperEnalotto (Spain) | 5 lines / €23.91 | 50 lines / 150 shares | €3.94 / share |
| El Gordo de la Primitiva (Spain) | 3 lines / €13.17 | 50 lines / 150 shares | €4.81 / share |
| EuroJackpot (Europe) | 1 line / €5.75 | 50 lines / 150 shares | €7.18 / share |
| Oz Lotto (Australia) | 6 lines / €14.78 | 50 lines / 150 shares | €3.40 / share |
| BonoLoto (Spain) | 3 lines / €4.67 | 50 lines / 150 shares | €4.56 / share |
| Powerball (Australia) | 8 lines / €13.89 | 50 lines / 150 shares | €2.41 / share |
| SuperLotto Plus (California, USA) | 5 lines / €13.90 | 50 lines / 150 shares | €5.39 / share |
| Lotto Saturday (Australia) | 8 lines / €10.64 | 50 lines / 150 shares | €5.39 / share |
| Lotto Wednesday (Australia) | 4 lines / €4.48 | 50 lines / 150 shares | €1.58 / share |
| Lotto Monday | 8 lines / €8.96 | 50 lines / 150 shares | €1.58 / share |
IceLotto Bonuses and Promotions
IceLotto rewards new and returning customers alike with a constant stream of deposit bonuses and other promotions. When you first sign up for an account with IceLotto, you may choose one of two welcome offers.
100% First Purchase Cashback: Choose this promotion, and IceLotto will match your first purchase with bonus money of an equivalent amount for up to $30 extra. For example, the first purchase of $25 worth of lottery tickets would get you a $25 bonus.
Deposit Deal: The deposit deal gives you extra bonus funds based on the amount deposited. Deposit $25 to get $20 extra, deposit $30 or more to get a $30 bonus.
Returning customers can also claim ongoing bonuses every time they deposit. Every time you deposit the following amounts, you receive bonus funds according to the following schedule.
Deposit $50: Get $5
Deposit $100: Get $15
Deposit $150: Get $30
Deposit $200: Get $50
The most important thing to know with all of these bonuses is that the bonus funds may only be used to purchase lottery tickets. Bonus funds may not be withdrawn as cash.
Areas of Concern
The presence of two completely different websites makes this portion of the review difficult to write. Upon visiting IceLotto.com, customers are taken to a dated website that looks abandoned. If you sign up for an account, players are taken to a different website with a slightly different URL (web.icelotto.com).
This confusion is troubling for players because it results in two completely different websites with conflicting information. For example, the prices on IceLotto.com are different than those displayed at web.icelotto.com.
Older website at www.icelotto.com: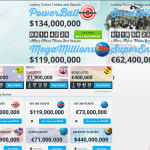 Newer website at web.icelotto.com: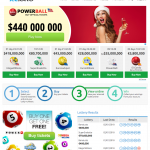 The following information comes from the version of the website found at www.icelotto.com. It is possible IceLotto just happened to be in a stage of transition from one website to another at the time we conducted this review. Hopefully, IceLotto will fix the following areas of concern by switching to a newer website which I believe is the one located at web.icelotto.com.
In any case, I have noticed several areas of concern while conducting this review and exploring the original IceLotto website (www.icelotto.com). None of these issues is necessarily a huge problem on its own but taken together; they give us ample reason to proceed with caution.
However, we should note that what you take from these following issues is open to interpretation. I have been involved in online lotteries and gambling long enough to become easily suspicious whenever something seems off. The issues described below are not concrete evidence that IceLotto is a scam or anything of that sort – much of what follows below is the opinion of your humble writer.
Poorly Maintained Website
The first thing that jumped out at me immediately upon visiting the website was the poor design right at the top of the homepage with oversized images, illegible text overlaying those images, and a general sense of confusion due to all of that. The IceLotto blog is also chock-full of broken images.
Design is hardly the most important thing to consider when evaluating a lottery site. Still, it does indicate to a certain extent a company's resources, attention to detail, and so on. When choosing between two identical lottery sites, most customers will choose the one with a better design every time. However, this is an easily fixed issue and may have been temporary at the time of this review.
You will also find that the last update on the IceLotto news page dedicated to discussing big jackpots worldwide hasn't received an update since 2015. Before the last update in September of 2015, the news page received a new post nearly every day.
The IceLotto blog appears to be in a similar state of disrepair with broken images and dated content. The blog looks absolutely abandoned from my point of view. This wouldn't normally be a big deal, but again it's the totality of issues here that is bothersome. It looks like someone had a nice website running and then one day just got up and walked away.
Dubious Claims
What is slightly more troubling is the website's presence that either makes dubious claims or offers just plain bad lottery advice. For example, it says this on the BonoLoto info page (emphasis mine):
"The best way to pick your numbers is through a Quick Pick. This way, players expand the likelihood of using a larger array of numbers rather than just the numbers they usually think of. Choosing to pick your own numbers helps look at the commonly chosen winning numbers and avoid the least chosen numbers. Statistically, the more a number comes up, the more likely it is to appear again!"
The bolded part is just plain wrong. In a fair and competently run lottery, past results have absolutely zero impact on future results. The randomly chosen balls spit from the lotto machine have no memory of when they were last chosen, and even if they did, they still lack the ability to move into a position to be chosen again.
In the "about us" page, IceLotto makes another dubious claim:
"We, at ICE LOTTO, invest our best efforts to ensure our clients maximize their opportunities and investment. We work with a professional team of statisticians and mathematicians to increase the winning odds for our clients. We evaluate the major official lotteries worldwide, their winning odds, and statistical data while maximizing and improving our clients' investments."
Even though I can't nail this claim as provably false, something smells about it. Do they really employ a professional team of statisticians and mathematicians to improve players' winning odds? And what do they mean by that?
If they're talking about improving the odds of winning through syndicates, that's something nearly every lottery site offers without employing a room full of experts. If they're claiming they actually have mathematicians studying past results to give you an edge when it comes to picking your numbers, that's even more troubling. It is never a good sign when people who should know better spread misinformation to their own customers.
Confusing Website Structure
As noted previously, IceLotto seems to be running on two different websites. If you type www.icelotto.com manually in your browser, you are taken to what appears to be an older website with all the problems described above. However, if you sign up for an account, you are taken to web.icelotto.com, which looks much newer and more up-to-date.
Whatever the case may be, the fact is this a confusing way to run a business. Which prices are customers supposed to believe? Those at the main website or those at the other one found at web.icelotto.com? This level of confusion is not something I like to see from a site asking us to spend our hard-earned money on lottery tickets.
Final Verdict
The confusion created by having two different websites combined with very little background information regarding company history and ownership creates way too much uncertainty for me to recommend IceLotto.com to readers at this time.
Even if IceLotto does address the issues noted above, the site itself offers few competitive advantages over other, bigger lottery sites that do not have these types of issues. You can play all the same lotteries, plus many more at Jackpot.com.
What IceLotto does have going in its favor is a constant stream of deposit bonuses and a huge list of deposit methods. The bonuses are nice, but I personally do not find them big enough to be worthwhile when we consider the other issues this site has displayed to date. However, IceLotto may be worth considering if you have had problems depositing at other lottery sites due to your country's banking laws.
Deposit Methods
IceLotto accepts a very long list of deposit methods that should give you a way to fund your account no matter where you may live. The following chart lists all available deposit methods along with processing times, fees, and supported currencies.
| | | | |
| --- | --- | --- | --- |
| Deposit Method | Processing Time | Fee | Supported Currencies |
| Visa | Instant | None | USD / EUR / GBP |
| MasterCard | Instant | None | USD / EUR / GBP |
| Maestro | Instant | None | USD / EUR / GBP |
| JCB | Instant | None | USD / EUR / GBP |
| Diners Club | Instant | None | USD / EUR / GBP |
| Skrill | Instant | None | USD / EUR / GBP |
| Neteller | Instant | None | USD / EUR / GBP |
| Moneta.ru | Instant | None | RUB |
| Yandex.Money | Instant | None | RUB |
| Qiwi Wallet | Instant | None | RUB |
| Bancontact / Mister Cash | Instant | None | USD / EUR / GBP |
| GE Money Bank | Instant | None | USD / EUR / GBP |
| UniCredit Bank | Instant | None | USD / EUR / GBP |
| Garanti | Instant | None | USD / EUR / GBP |
| Danske Bank | Instant | None | USD / EUR / GBP |
| KB MojePlatba | Instant | None | USD / EUR / GBP |
| mBank | Instant | None | USD / EUR / GBP |
| Leumi | Instant | None | USD / EUR / GBP |
| K&H | Instant | None | USD / EUR / GBP |
| Bank BPH | Instant | None | USD / EUR / GBP |
| Alpha Bank | Instant | None | USD / EUR / GBP |
| AKBANK | Instant | None | USD / EUR / GBP |
| ABANKA | Instant | None | USD / EUR / GBP |
| CEC Bank | Instant | None | USD / EUR / GBP |
| Obedinena Balgarska Banka | Instant | None | USD / EUR / GBP |
| ZUNO | Instant | None | USD / EUR / GBP |
| Eurobank | Instant | None | USD / EUR / GBP |
| UniCredit Bulbank | Instant | None | USD / EUR / GBP |
| Erste Bank | Instant | None | USD / EUR / GBP |
| dskbank | Instant | None | USD / EUR / GBP |
| Banca Transilvania | Instant | None | USD / EUR / GBP |
| Bank Polski | Instant | None | USD / EUR / GBP |
| Equa Bank | Instant | None | USD / EUR / GBP |
| Bank Zachodni | Instant | None | USD / EUR / GBP |
| BCR | Instant | None | USD / EUR / GBP |
| Ceská Sporitelna | Instant | None | USD / EUR / GBP |
| CSOB | Instant | None | USD / EUR / GBP |
| Fio banka | Instant | None | USD / EUR / GBP |
| Millenium Bank | Instant | None | USD / EUR / GBP |
| NLB | Instant | None | USD / EUR / GBP |
| Nordea | Instant | None | USD / EUR / GBP |
| OP-Pohjola | Instant | None | USD / EUR / GBP |
| otpbank | Instant | None | USD / EUR / GBP |
| Postova banka | Instant | None | USD / EUR / GBP |
| Prima Banka | Instant | None | USD / EUR / GBP |
| ProCredit Bank | Instant | None | USD / EUR / GBP |
| SEB | Instant | None | USD / EUR / GBP |
| Slovenská sporiteľňa | Instant | None | USD / EUR / GBP |
| Swedbank | Instant | None | USD / EUR / GBP |
| VUB Banka | Instant | None | USD / EUR / GBP |
| Tatra Banka | Instant | None | USD / EUR / GBP |
| SKB | Instant | None | USD / EUR / GBP |
| Sberbank | Instant | None | USD / EUR / GBP |
| Raiffeisen Bank | Instant | None | USD / EUR / GBP |
| Volksbank | Instant | None | USD / EUR / GBP |
| Bank Transfer | 3-5 Business Days | None | USD / EUR / GBP |