Lottoland is simultaneously one of the newest and largest online lottery sites in operation today. The company got its start in 2013 with seven employees working out of an office in Gibraltar. Within four short years, Lottoland had expanded internationally to acquire more than six million customers across four continents.
Disclosure: BestLotterySites.com maintains financial ties with many of the sites discussed here, including Lottoland. However, these ties do not affect our reviews in any way. We discuss every lottery site in candid terms to give customers a complete picture of what each site does well and where it comes up short to let you decide which site best suits your needs. 18+ to play, terms & conditions apply.
The Lottoland website claims to have paid out more than €960 million in winnings to customers to date. Some huge wins are included in that figure. For example, the two largest individual payouts made to customers in 2016 alone were for €22 million and €14 million.
We do take Lottoland at face value in these claims because this is, in all likelihood, the most heavily regulated lottery site in existence. Lottoland currently holds licenses from no less than four major gambling jurisdictions: The UK, Ireland, Gibraltar, and Australia. You can see those licenses here, here, here, and here
As far as safety and reputation are concerned, we have no complaints there. The fact that Lottoland is willing to devote the time and expense to acquire all these licenses speaks highly of the firm's legitimacy. None of those are easy licenses to get, and the people who run those regulatory commissions are demanding.
Lottoland has also had some good luck along the way. For example, Lottoland had fortuitous timing when it entered the Australian market in January 2016 after acquiring its license from the Northern Territory Racing Commission. It was that very same week that the USA Powerball jackpot topped a record-breaking $1.3 billion. Lottoland says 250,000 people registered for accounts at Lottoland.com.au during that week alone to bet on Powerball.
How Lottoland Works
Lottoland is a lottery betting site, not a ticket delivery service. What this means is Lottoland does not purchase tickets on your behalf; it simply takes wagers on what the winning numbers of various lotteries will be. Lottoland matches or exceeds all prizes paid by the underlying lotteries, but it is technically a betting site because it does not actually purchase tickets for customers.
The experience from your point of view is similar to actually buying a lottery ticket, except it is all done online, and it is Lottoland that pays your winnings. If you win money at Lottoland, the underlying lottery does not pay you; Lottoland does.
Smaller winnings are paid from funds Lottoland holds in reserve for that purpose. Larger wins are covered by special insurance contracts Lottoland has in place. Whenever a player wins a large amount, Lottoland collects on the insurance contract and then pays the player an amount equal to what the real lottery offered for that prize amount.
Interestingly, Lottoland has paid out five multi-millionaire winners since late 2015. In every case so far, Lottoland has paid Tier 1 (jackpot) winners faster than they would have been paid had they actually played the underlying lottery.
This business model gives Lottoland great flexibility in the types of promotions and special features it may offer. For example, Lottoland can offer special jackpots that are higher than the jackpot offered by the underlying lottery, and it can offer free bets. None of that would be possible if Lottoland were bound to various lottery operators in an official capacity.
One example of how Lottoland can sometimes beat the official lottery occurred during a special promotion offered to their Australian players in 2017. The promotion guaranteed a top jackpot of A$100 million if anyone could guess all winning numbers in the upcoming Oz Lotto drawing. At the time, the official Oz Lotto was expected to produce a top jackpot of A$5 million.
Funnily enough, this embarrassed and angered local lottery operators. That promotion may, in fact, have been the last straw that ultimately resulted in the Northern Territory Racing Commission banning Lottoland from offering wagers on Australian lotteries to Australian players.
Australian customers have been prohibited from betting on local lotteries ever since. Australians may still bet on international lotteries, and international customers may still bet on Australian lotteries, but the days of Australians betting on Australian lotteries are long gone.
Of course, Australia is hardly the only country in which Lottoland operates. In addition to its operations Down Under, Lottoland has a presence across much of Europe, South America, Sweden, and the UK.
Lotteries and Pricing
Lottoland offers a significantly above-average number of lotteries compared to other similar sites. There are more than 30 lotteries on offer ranging from various state-level lotteries to major international drawings. This list includes the big ones such as Powerball and EuroJackpot and lotteries as small as the New York keno drawing, which runs every 4 minutes.
In addition to various international lotteries, Lottoland runs a couple of its own independent games. WorldMillions, for example, is a Lottoland creation that gets its numbers from two real-world lotteries but with its own pay scale. WorldMillions is drawn every Thursday and Sunday with a €50 million guaranteed jackpot every time.
They also hold an annual Mega drawing each year with a guaranteed jackpot of €100 million. This one is based on the numbers of Brazil's Mega Da Virada drawing but has its own prize table with odds that are actually better than most real-world lotteries. Players are twice as likely to win the top jackpot in this one than they are playing in EuroMillions.
Here is the full list of lotteries along with the cost per entry for each:
Subscriptions are offered on all lotteries and can be set for a duration of 1 to 52 weeks. When you choose the subscription option, you pay upfront for the duration, and then the subscription automatically renews at the end of each subscription duration.
Lottoland subscriptions can also be customized to only purchase tickets when the jackpot is above a certain amount. Alternatively, you can set the subscription to run up until a certain date by choosing the first draw date from which the subscription will begin.
You can see in the example below that I have a UK Lotto subscription set to enter me into every Saturday drawing for 8 weeks with one ticket for a total cost of €24. You can see that I have also set up my subscription only to run when the jackpot is €6 million or higher. Thus, the subscription will pause on weeks in which the jackpot dips below that number.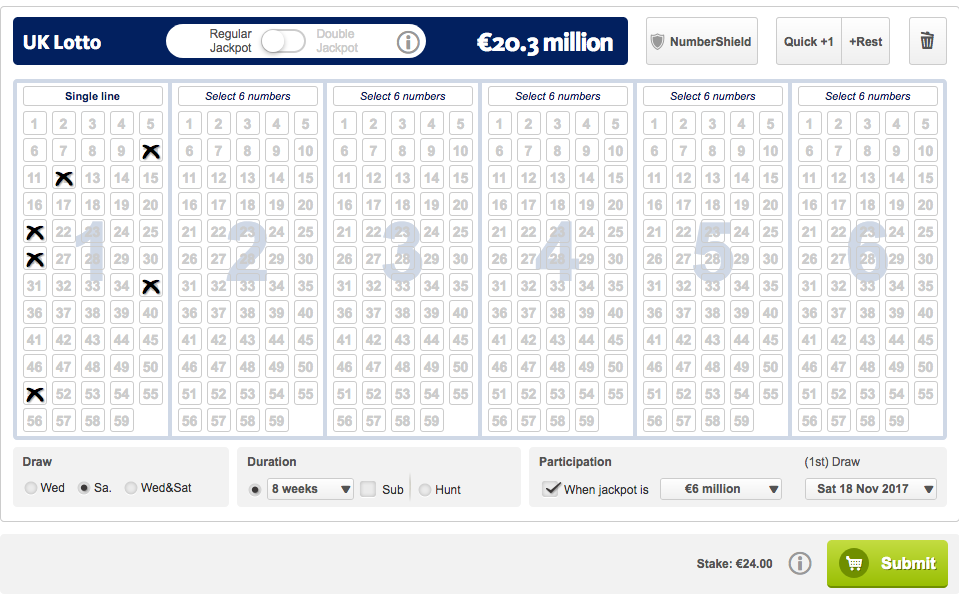 Syndicates
Lottoland offers numerous syndicate options which allow you to pool your resources with other players to purchase many more entries into lotteries than would otherwise be affordable. Lottoland manages all syndicates so that all you need to do is choose how many shares you wish to purchase, and then all prizes will be shared equally among all syndicate members.
Syndicates at Lottoland let you play as many as 1008 lines (unique combinations of numbers) to give you more than a thousand chances to win. Each syndicate option sells anywhere from about 50 to 150 shares, with each share taking part in every line. You can buy as many shares as you want to increase your share of any prizes.
Let's look at an example to show how Lottoland syndicates work. Pretend you purchase 1 share of a 100-share syndicate that covers 150 lines. This means you have 150 unique combinations in play and win 1/100th of all prizes paid out. Now, imagine your syndicate gets lucky and hits the €100 million jackpot. In that case, your share would be €1 million.
You are also able to purchase multiple shares. Continuing that example, you would have received €2 million had you purchased 2 shares, €3 million had you purchased 3 shares, and so on.
Syndicate pricing varies from lottery to lottery and is based on the number of lines offered. The EuroMillions 50 syndicate, for example, covers 56 lines and offers 68 shares for €2 each. Or, you could go bigger with a Mega Millions 1000 syndicate that covers 1008 lines and offers 158 shares for €40 each.
Lottoland Promotions
Lottoland runs promotions on a near-continuous basis to promote certain lotteries, encourage people to try subscriptions, and more. These promotions are always changing, but generally, they involve getting free entries, receiving heavily discounted subscriptions, and other things of that nature.
The following examples show three promotions Lottoland was offering at the time of this review. These promos will be different when you read this review, but these examples should at least show the types of offers Lottoland tends to provide.
US Powerball subscription: Activate a subscription bet and get 4 of the first 8 draws free
Mega Millions subscription: Get 4 of the first 8 draws free
Fri Lotto subscription: Get 2 of the first 4 draws for free
Additional Lottery Features
When you buy lottery entries at Lottoland, you can also use several additional features to change your experience according to your preferences. These additional features are available for most lotteries and can be selected by selecting the relevant options on the numbers-picking page of each lotto.
Double Jackpot: Activating the double jackpot feature doubles the size of the top jackpot at the cost of making each entry more expensive. If the current jackpot is €60 million and you flip the switch, you'll be playing for €120 million. Lottoland's special insurance policies make it possible for them to pay you twice the official lottery's jackpot should you win. Price varies.
NumberShield: NumberShield is a cool feature that protects you from having to share your jackpot win with other players who may have picked the same numbers. If you activate NumberShield, you always win the entire jackpot amount no matter how many other jackpot winners there are. Pricing starts at €1.40 per selection.
JackpotHunt: JackpotHunt is a subscription feature that renews your subscription to that lottery until the current jackpot is own. After someone wins the current jackpot, your subscription comes to an end. You can cancel at any time. This one is useful if you see a particularly enticing jackpot and want to make sure you play it every drawing for as long as the jackpot is available.
The red arrows in the following screenshot show where you can activate each feature.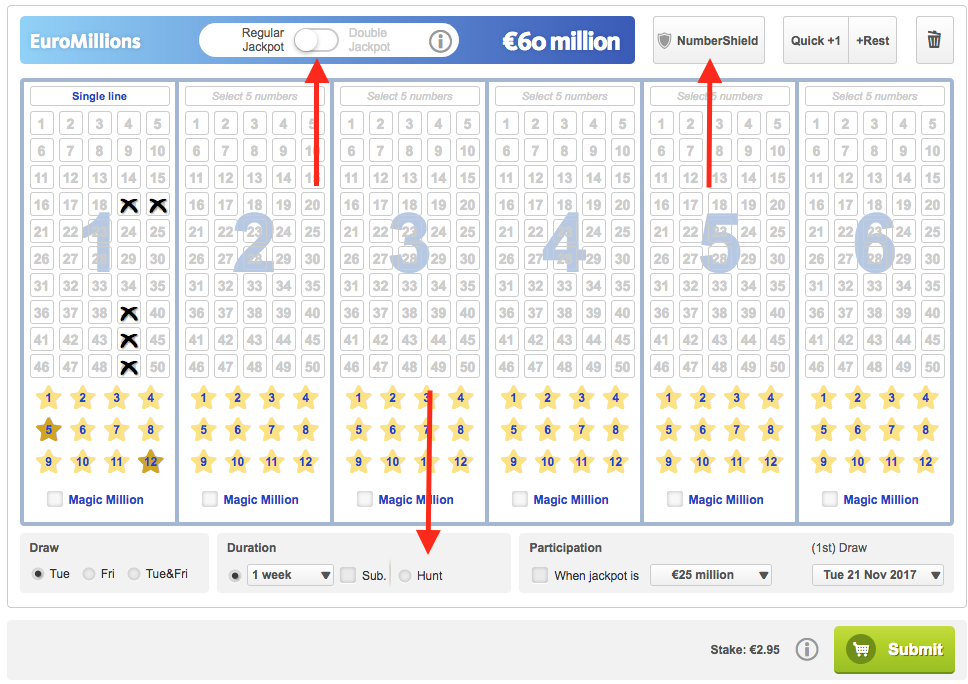 Other Games
Lottoland is primarily in online lotteries, but the website has much more to offer than lottery tickets. You will also find a collection of scratchcards, arcade-style instant win games, and even a casino complete with live dealer games.
Scratchcards
Lottland.com also sells online scratch cards that work just like their real-world equivalents – you purchase them, scratch them off to reveal prices, and claim your wins. A few lottery sites have come out with scratchcards in recent years, but Lottoland's are a bit different in the variety of prizes their scratch cards offer.
Lottoland scratchcards offer standard cash prizes, with some games offering a max payout of just €5,000 and others paying up to €10 million. Some games give away dream cars such as Lamborghinis and Land Rovers, others that give away €5,000 a month for 10 years or €1,500 a day for one year.
The following chart displays the full list of Lottoland scratchcards and the price for 1 card, and the top prize on offer. Also, note that many of the games offer discounts of up to 10% for purchasing 10+ scratchcards at a time.
| | | |
| --- | --- | --- |
| Scratchcard | Cost for 1 Game | Top Prize |
| Everyday Payday | €2 | €1,500 /day for 1 year |
| Instant Millionaire | €4 | €1,000,000 |
| Gold Hunt | €1 | €10,000 |
| 10 Million | €15 | €10,000,000 |
| 7.5 Million | €10 | €7,500,000 |
| 5 Million | €8 | €5,000,000 |
| 2 Million | €5 | €2,000,000 |
| US Mega Millions | €3 | €1,000,000 |
| Gold Rush | €0.25 | €5,000 |
| Dream Car 1 | €5 | Range Rover Sport |
| Dream Car 2 | €10 | Ferrari 488 GTB |
| Dream Car 3 | €2.50 | VW Golf TSI |
| Dream Car 4 | €10 | Lamborghini Huracán + €50K |
| Dream Car 5 | €5 | Porsche 911 Carrera |
| Moorhuhn | €0.7 | €70,000 |
| €100K Cash | €1 | €100,000 |
| Chancy's Charm | €1 | €50,000 |
| 777 | €0.5 | €7,777 |
| Ten Lucky Years | €2 | €5,000 / month for 10 years |
| Full Bloom | €1.5 | €2,500 / month for 10 years |
| Fruity Flurry | €0.8 | €50,000 |
| Raid the Piggy Bank | €0.25 | €2,500 |
| Super Shamrock | €0.15 | €1,500 |
| 33 Chances | €2 | €20,000 |
| Bicho Mania | €0.4 | €4,000 |
| Cash Ball | €1 | €1,000 / day for 1 year |
| Build Your Dream Home | €4 | €1,000,000 |
| Santa's Scratch | €0.3 | €24,000 |
Instant Win Games
The instant win games at Lottoland are like scratchcards except much more involved with special features and elements of skill. They have games that resemble Bejeweled as you try to break the bricks, other games based on trivia, and others such as Snakes and Ladders that resemble traditional board games.
Each of these instant win games has a unique theme and style of play, but the end goal in all is to win serious cash. If you ever feel like taking a break from watching lottery results roll in, these games offer a more hands-on experience.
Casino Games
Yet another way Lottoland differs from most online lottery websites is the full-service casino it has on offer. The Lottoland casino is not just a few games added as an afterthought – this is a complete casino with slots, table games, video poker, and even live dealer games.
In fact, we could fill an entire review dedicated just to the Lottoland casino if we had the time and space to do so here. We'll keep this somewhat brief, but to give you an idea of how many games are on offer, here is the full list as of the time of this review:
139 Slots: This includes advanced video slots, traditional reel slots, and games themed after popular entertainment franchises such as Planet of the Apes. Multiple software providers contribute to the games list, so you'll find significant variation in terms of themes, graphics, and bonus features.
20 Table Games: All the classic casino games such as blackjack, roulette, craps, and baccarat, in addition to multiple variations of each. A few others include double-ball roulette, Ultimate Texas Holdem, and three-card poker.
3 Video Poker Games: Lottoland casino offers Deuces Wild Double Up, Jacks or Better Double Up, and Jacks or Better.
13 Live Dealer Games: The live dealer games at Lottoland casino employ real, human dealers seated at real gaming tables, all streamed live to you on your desktop or mobile device. After you place your bets, you can watch in real-time as the dealers manage the game, deal with the cards and spin the wheel.
Keno Every 4 Minutes
Lottoland offers several keno games that run every four minutes or twice a day, depending on the game. The inclusion of keno among its lotteries is a clever move by Lottoland because it means there is always something going on.
You pretty much need to wait until the next drawing for anything to happen at other sites. At Lottoland, they have keno games running every four minutes, 24 hours a day.
The New York keno games run every four minutes with a €10 million top prize available every drawing. There is also multi-keno which runs twice a day with a €6 million top prize. German keno runs once a day with a €1 million top prize. And lastly, there is KeNow which pays up to €1 million every four minutes.
Depositing and Getting Paid
Lottoland accepts multiple deposit methods that are tailored to your location. We can deposit with Visa, MasterCard, Neteller, Skrill, Paysafecard, and bank transfer (on request) here in the UK. If you live elsewhere, you will see different deposit methods designed for customers in your country.
The minimum deposit is €/£/$ 1, and there is no max depending on which deposit method you use. Lottoland does not charge any fees for making deposits.
Getting Paid
Lottoland guarantees all payouts regardless of the jackpot. Remember also that Lottoland feels like playing the lottery, but it is actually just betting on the outcome of various lotteries. Lottoland still matches all prize levels for all lotteries, but it is Lottoland who pays you, not the lottery.
Smaller winnings are paid by Lottoland using funds collected from selling entries to that ticket. Lottoland pays big prizes with the help of insurance contracts that pay them on the eventuality of a substantial prize. Lottoland will pay you quickly in both cases, and then you will be free to withdraw the money back to your bank account.